S.O.S   e – Clarion  Of  Dalit  –  Weekly  Newspaper  On  Web 
Working  For  The  Rights  &  Survival  Of  The Oppressed
Editor: NAGARAJA.M.R… VOL.11 issue.15…… . 19  / 04 / 2017
Editorial :  Greedy Judges  SALARY HIKE  performance  NIL
Even  after one year  , why no  legal action has been taken against tormentors of Dalit Judge Mr.Gwal ?
Why no action against judges who committed sex crimes against women , who swindled employees provident fund money , etc , While Judges belonging to powerful castes , having influence , who have done grave crimes are let off , their cases buried. Justice karnan is tortured as he is a dalit without any influence for exposing crimes. So called learned advocates are defying gentleman's boundaries and personally calling a judge as lunatic. Are those learned advocates cultured , gentleman , what they have done to safeguard justice. Read JUSTICE KARNAN VICTIMIZED in web news paper SOS E CLARION OF DALIT. Judge's Mafia. Overall in this saga certain people want to bury the corruption allegations made by Justice Karnan, by diversion from core issue of corruption by judges. In the same way dalit judges Justice Gwal & Justice Ramakrishna were tortured by High ranking judges , where is the justice to these persecuted dalit judges ? Why not their tormentors high court & supreme court judges legally prosecuted under Prevention of Atrocities Act against SC /ST ?
Judges  SEX  crimes
https://sites.google.com/site/sosevoiceforjustice/judges-sex-crimes
A – Z   of   Manipulation  of  Indian  Legal  System
http://www.scribd.com/doc/187575206/A-Z-of-Manipulation-of-India-Legal-System   ,
http://www.scribd.com/doc/173854541/Chief-Justice-of-India-A-Criminal   ,
50% of higher judiciary corrupt, says ex-SC judge Markandey Katju
http://www.hindustantimes.com/punjab/50-of-higher-judiciary-corrupt-says-ex-sc-judge-markandey-katju/story-Hfu8Ru8o9YfoGOjloboytN.html
Eight chief justices were corrupt: Ex-law minister
http://timesofindia.indiatimes.com/india/Eight-chief-justices-were-corrupt-Ex-law-minister/articleshow/6568723.cms
In suicide note, Arunachal CM Kalikho Pul alleges graft by SC judges, Congress

http://www.sify.com/news/in-suicide-note-arunachal-cm-kalikho-pul-alleges-graft-by-sc-judges-congress-news-national-rcruamjjfdhhc.html ,
Calcutta HC Justice Karnan calls judiciary corrupt, brings up old allegations against HC judges
http://www.hindustantimes.com/india-news/calcutta-hc-justice-karnan-calls-judiciary-corrupt-brings-up-old-allegations-against-hc-judges/story-k0WRYaBWRPYaUI6HgzPDHP.html
Traitors  in  Judiciary &  Police
https://www.scribd.com/document/329980170/Traitors-in-Judiciary-Police  ,
Crimes  by  Khaki
https://sites.google.com/site/sosevoiceforjustice/crimes-by-khaki 
FIRST  Answer  Judges  Police
https://www.scribd.com/document/336585411/FIRST-Answer-Judges-Police 
     The  mafia  of corrupt  has never allowed for transparent , impartial   investigation into criminal cases  involving higher judges & public servants. Justice Karnan  is in  the position of  high court judge due to his merit , talent , education  not  on the basis of reservation or anybody's mercy. Justice Karnan is a whistle blower , he has exposed corruption in the higher judiciary , he has not done any crimes. Now , powers that be instead of ordering for a fair investigation into   his charges,  is trying  all out to silence him. Some  people  are  even making personal  attacks , by calling him lunatic. Those persons may be beneficiaries   of the existing corrupt judicial system and they  want to continue  with this present  corrupt system.
   In a Mental Hospital ward , say there  are number of  mentally challenged patients  playing inside the ward. A doctor & his assistant enters  the ward to  check , give  routine medicines , injections to patients and then all those  patients call  the  doctor himself as  mad. It is the same situation now.
     Are  not  the so called learned , aged advocate ( @ god's airport )  and  learned   judges   see the  crimes by judges in the past. See  sample cases mentioned above & below.  What  action taken by those  learned judges &   learned advocate , to safe guard law  in the above / below  mentioned cases? Our  judicial  system is  being  weakened  by  corrupt  judges &  few  , greedy   advocates  ( learned  ? ) , NOT by  whistle blowers  who  have sacrificed  to protect the  nation from corrupt people.
    In the past  few judges  belonging to powerful castes  facing  charges of  gravest crimes , got a smooth sailing , their  cases white washed. But Justice  Karnan  belonging to oppressed  Dalit  class  is being  tortured  for standing up against corruption. He has done no crimes. This is the very reason few honest judges  & honest  advocates  keep  silent  fearing  victimization.
   Hereby , we  demand Honourable Supreme Court of India :
1.       To  order  transparent , impartial   investigation into all the above mentioned corruption cases involving high ranking judges.
2.       To  order for filing  charges  under SC / ST Atrocities Prevention Act  against  high ranking judges  who  tortured  Dalit Judges – Justice Karnan , Justice Gawl & Justice Ramakrishna.
3.       To  order for filing  charges  under SC / ST Atrocities Prevention Act  against  learned advocate & others  who made personal attacks on Justice Karnan  by calling him as lunatic and  for  obstructing legal prosecution of the corrupt judges.
Jai Hind. Vande Mataram.
Your's
Nagaraja Mysuru Raghupathi.
Chhattisgarh government dismisses CJM who accused BJP MLA of threatening him
The Chhattisgarh government has dismissed Sukma's Chief Judicial Magistrate Prabhakar Gwal from "service in public interest with immediate effect", Indian Express reported. Senior government officials have refused to reveal the nature of the allegations against him, and have said the decision was taken after a recommendation from the Bilaspur High Court that could not be ignored.
Gwal had earlier alleged that BJP legislator Ramlal Chauhan had threatened him after he convicted 5 people in connection with the 2011 PMT papers leak. His wife had written to the President alleging harassment, saying that her husband had been transferred to Sukma because of this judgment.

·  27 atrocities against Dalits every day
·  13 Dalits murdered every week
·  5 Dalits' homes or possessions burnt every week
·  6 Dalits kidnapped or abducted every week
·  3 Dalit women raped every day
·  11 Dalits beaten every day
·  A crime committed against a Dalit every 18 minutes· 
DALIT  ATROCITIES 
https://www.thequint.com/videos/2016/07/25/caste-violence-in-india-is-not-new-and-seems-to-be-getting-worse 
Atrocities  on   Dalits by Judges  – SHAME SHAME
–          An Appeal to Honourable Supreme Court of India, National Human Rights Commission & National Commission  for  Scheduled  Castes  /  Scheduled  Tribes
        The track record of apex court is not clean. There is secrecy involved in selection , promotion , transfer of judges to high court & supreme court. Supreme court judges take huge pay , perks from public exchequer ( now on the verge of getting triple fold increase in pay ) but are not accountable to public. They don't give information to public , concerning judges and national security , public welfare.
   Consider the case of Dalit judge of sukma , chattisgarh , he was removed for being honest , for upholding law ? Now, Justice Karnan a whistle blower is being victimized. Apex court is not looking seriously  at issues  raised by justice karnan but concentrating on silencing him.
  When other high ranking judges  ( having  influence  & belonging to upper castes )  were accused of more grave crimes like  involvement  in sex racket , sex crimes against women , national security crimes  , etc , they were treated with kid gloves , cases hush hushed , white washed.  Inspite of  fervent  appeals  even  apex court didn't bother to  conduct a public , transparent enquiry. Now apex court  has  initiated  suo motto  "contempt proceedings " against  Justice Karnan as he  is a  DALIT  , without influence of powers that be.
  When  a  poor  dalit person  or  person  belonging to  weaker section , SC / ST  builds  a temporary hutment  on government land  , officials  , police take suo motto  action , evicts that person & razes down that hutment immediately.  Where as when a rich person belonging to upper caste , having influence of powers that be   builds  huge buildings usurping government land , lake bed , etc no suo motto action by police . Officials , police don't  take action  inspite of repeated appeals by concerned public.  The courts of justice instead of upholding public cause , gives stay orders  protecting rich land grabbers but in the same fashion  judges don't come to the rescue of poor  dalit  hut dwellers.  Even  when  land grabbings were brought to the notice  of apex court at the very early stage  itself,  apex court  instead of preventing  the land grabbing  silently allowed  the grabbers to continue  with their land crimes.  The enactments of laws by various state governments  including   government of Karnataka  regularizing illegal land constructions  is solely to benefit  greedy , rich land grabbers belonging  to upper castes. Inspite of repeated appeals the apex court has not annulled those  illegal laws of various state governments.
Just  consider the prison population in  india ,  80% of prisoners are under trials and  majority of them are dalits, tribals  , belongs to weaker sections , SC / ST. Most of  them cann't afford lawyers , most of them are implicated by their  upper caste masters , land lords .  Even within the prison  , their rights are not respected by authorities , are treated worse than animals.  Where as   deadly criminals   convicted of gravest crimes ( but  rich , belongs to upper castes)  enjoys many luxuries within the prison.  It proves the vulnerability of the  dalits , weakers sections in india.
  So many dalits , weaker section people   were  cheated  of  their job oppurtunities in mysuru university , KSOU , Various Government  Medical  colleges , Government aided  ITIs , Polytechnics in Karnataka state  by scheming  upper caste officials.  Inspite of repeated appeals , why apex court has not taken legal prosecution to logical end and ensured justice to  aggrieved dalits ?  What action supreme court has taken against  KPSC , VYAPAM members who denied  job oppurtunities to merited candidates , dalit & weaker section candidates ?  ? let alone take  suo motto action . No action to logical end. 
Day in day out  there are rampant atrocities against dalits , weaker sections of people  by public servants , judges are not doing their duties properly. Supreme court judges are enjoying lakhs of rupees pay , perks , 5 star bungalows  , foreign trips , weeks long summer / winter  paid  vacations  , proposed triple  fold salary hike  all at tax payer's expense.  These judges must be first booked for "Atrocities against Dalits , Weaker sections"  under SC / ST Atrocities Prevention Act.
   If at all , Supreme Court of India is impartial , without bias , let it come out clean :
1.                   To immediately  stay contempt proceedings against Justice Karnan and Order impartial enquiry against  judges accused of corruption , impropriety by Justice Karnan and all other issues raised by him. Take the help of Justice Karnan in collecting evidences.
2.                   Order impartial enquiry against almost half of former chief justices of india accused of corruption by NGOs.
3.                   Immediately give justice to past Sukma Dalit Judge who was unjustly removed.
4.                   Immediately  give truthful , full  information , answers  to RTI questions sent to Supreme Court of India by our publication years ago. Inspite of several appeals , majority of questions are unanswered & for few questions got ambiguous answers.
5.                   Immediately take action  to protect fundamental rights , human rights of whistle blowers , RTI Activists & Human Rights Activists.
6. Immediately  take action against  KPSC , VYAPAM   members responsible for illegal recruitments , cancel  all those illegal recruitments and   conduct recruitments afresh  with old candidates.
7.  Immediately  take action against  KSOU , Mysuru University , Government Medical Colleges , Government Aided Polytechnics , ITI officials  responsible for illegal recruitments , cancel  all those illegal recruitments and   conduct recruitments afresh  with old candidates.
8. Immediately  annul laws  enacted  by various state governments in  india  regularizing illegal constructions by  land grabbers .
9. Make public the  names  of  all land grabbers , majority of them belongs to upper castes and  are rich , greedy.
10.  Protect  the rights of prisoners in india  irrespective of their caste affiliations.
11. Ensure speedy justice ,  legal aid  to  under trials  belonging to weaker sections , SC & ST.
12.  Fix lower amount  for bail surety or create a corpus to  give bail  amount  to under trials belonging to SC , ST , Weaker sections , Dalits.  Many  dalits who are poor  are unable to pay bail amount  and suffer in jail for years much more than  the legally stipulated punishment even if convicted.
13. Enforce uniform rules , uniform food , uniform health care , uniform   prison cell  to all prisoners  irrespective of  their caste , whether he is  an ex chief minister ,  ex managing director of a big company , ex religious guru  or  an ordinary person , a dalit , a tribal.    Ensure equality  , equal treatment in prisons , jails.
14.  Why  NOT criminal prosecution of guilty   judges   who commited atrocities on dalits  under SC / ST  Atrocities prevention act is  not taken , till it's logical end ? are judges above law ? why such guilty judges are put behind bars for this non bailable offence ?  only transfer or resignation  of judges  will not serve the purpose , they must be put behind bars & legally prosecuted for their heinous crimes . Is the not the apex court is also practicing double standards & indirectly  aiding atrocities on dalits ? Read following sample cases of "Atrocities on Dalits committed by Judges".
15.    Immediately admit PILs  presented before supreme court of india by our publication . Read full details at following web pages ;
Traitors  in  Judiciary &  Police
https://www.scribd.com/document/329980170/Traitors-in-Judiciary-Police  ,
Crimes  by  Khaki
https://sites.google.com/site/sosevoiceforjustice/crimes-by-khaki 
FIRST  Answer  Judges  Police
https://www.scribd.com/document/336585411/FIRST-Answer-Judges-Police 
"There is a higher court than the court of justice and that is the court of conscience It supercedes all other courts. "
– Mahatma Gandhi
"Contempt  Proceedings"  should not be used as a weapon to silence voices seeking  justice , accountability of judiciary. Respect of judiciary doesn't come out of fear rather spontaneously it comes out of a person's heart  when  he sees a honest judge doing his duties honestly.
Jai Hind. Vande Mataram.
Your's ,
Nagaraja Mysuru Raghupathi
Allegations of dalit atrocities and nepotism against CV Nagarjuna Reddy J. of Andhra Pradesh
The Campaign for Judicial Accountability and Reforms (CJAR) has written to Chief Justice of India TS Thakur seeking initiation of in-house proceedings against Justice CV Nagarjuna Reddy for alleged atrocities against members of Dalit community.
In a 9-page letter written on August 30 this year, the CJAR has detailed various allegations against the sitting judge including a detailed account of "criminal misconduct" against a dalit magistrate.
According to the letter, one Rama Krishna, a Principal Junior Civil judge in Kadappa District, was forced by Justice Nagarjuna Reddy to remove the name of Pavan Kumar Reddy from a dying declaration recorded by Rama Krishna when he was posted as a magistrate. Pavan Reddy  happens to be the brother of Justice Reddy.
As per the dying declaration given by the victim, Pavan Reddy had doused the victim with petrol and set him of fire when he refused to sign on a blank paper.
"Soon thereafter, on 30.11.2012, it is alleged by Mr. Rama Krishna that Justice Nagarjuna Reddy rang him up, and directed him to remove his brother's name from the dying declaration. Mr. Rama Krishna also alleges that he was threatened and abused by the said judge when he refused to accede to his request."
It has also been alleged that the Magistrate was later summoned to Justice Nagarjuna Reddy's house where,
"….Pavan Reddy and Justice C.V. Nagarjuna Reddy abused him and beat him up. He further alleges that Justice C. V. Nagarjuna Reddy kicked him with his shoes and abused his caste".
It is Rama Krishna's allegation that he was victimised following this incident by "unexplained" transfers and suspensions.
Another allegation against the judge is the abuse of power to get that very Pavan Reddy appointed as Additional Public Prosecutor.
"Mr. Pavan Kumar Reddy was appointed as Additional Public Prosecutor in the year 2006 for a period of three years in contravention of the law that mandates seven years of continuous practice as an advocate prior to appointment as an Additional Public Prosecutor."
Based on the above, CJAR has not only sought an in-house enquiry but has also asked for the suspension of judicial work assigned to Justice Reddy. Chief Justice Thakur has not responded to CJAR's representation yet.
This is the second such allegation against a sitting judge of High Court of Telangana and Andhra Pradesh.
In 2015, an Additional District judge from Andhra Pradesh had approached the Supreme Court under Article 32 alleging caste discrimination by a sitting High Court judge, Justice M Satyanarayana Murthy.
The Supreme Court had, however, refused to admit the matter with a Bench presided by then Chief Justice Dattu likening the case to a service matter and observing that the case was a grievance of an individual and cannot be considered as a case pertaining to Fundamental rights.
Impeachment Motion: Five Main Allegations Against Justice CV Nagarjuna Reddy
December 9, 2016 8:45 pm
Sixty one Rajya Sabha members have moved a petition for impeachment proceedings against Justice CV Nagarjuna Reddy of the Andhra Pradesh/Telangana High Court.
The following are the main allegations against the Judge
Misused his position as HC judge to 'victimize' a 'Dalit' Judge
The impeachment motion describes the allegation made by Mr. Rama Krishna, formerly Principal Junior Civil Judge, Rayachoty, Kadapa District, currently under suspension, that he was forced by Justice C.V. Nagarjuna Reddy to remove the name of Mr. Pavan Kumar Reddy who happens to be the brother of Justice Reddy, from a dying declaration recorded by Mr. Rama Krishna when he was posted as Magistrate in Rayachoty. He alleged that Justice Reddy had summoned him to his home and when he refused to remove the name of his brother from the dying declaration, he kicked him with his shoes and abused his caste.
Charges of Dalit atrocity against spouse, daughter and brother
Another incident of alleged Dalit atrocity pertaining to the registration of an FIR by the 'Dalit' tenants against Justice C.V. Nagarjuna Reddy's wife and daughter, is also mentioned. There also allegations that Mr. Pavan Kumar Reddy commits these various atrocities against the Dalits community under the protective banner of his brother, Justice C.V. Nagarjuna Reddy's influence
Disproportionate income
The motion also alleges that Justice Reddy abused his position to amass several movable and immovable properties crores of rupees disproportionate to his known sources of income.
Non-Disclosure of Assets and Liabilities
Yet another allegation against Justice Reddy is that he has not disclosed his assets and liabilities in violation of the Code of Conduct that mandates declaration of assets of oneself and dependents by all the judges.
Misconduct when he was an Advocate
It is also mentioned in the impeachment motion that Justice Reddy committed misconduct while he was working as Standing Counsel, for the High Court of Andhra Pradesh.
India's courts 'condone' Dalit atrocities
Caste-blind judiciary fails Dalit victims as number of sex attacks are reported against former untouchables.
 Twenty two years ago, in Bhateri village in the western Indian state of Rajasthan, Bhanwari Devi was gang-raped by five men. The reason was neither lust nor just patriarchy. Devi's fault was that as a lower-caste woman, she had dared to transgress the age old strictures of caste – by protesting against the practice of child marriage, which was a staple among the upper-castes. Hence, he was meted out a "deserving punishment". 
When the matter finally reached the court, the judge acquitted all the five rapists, holding, among a host of other reasons, that since the upper castes practised strict untouchability, it was inconceivable that any of the five would touch a lower caste woman. Till today, Devi remains deprived of justice.
Now that there is a tidal wave of opprobrium and condemnation against the gang-rapes and murder at Badaun in northern Uttar Pradesh state and the gang-rapes in Bhagana, Haryana, the next question one is confronted with is – will justice be done? And if so, how?
While investigations are still on, and arrests have been made, it is only the first step. The final outcome in the courts is all that matters, and it is here that there is cause for much alarm and disappointment. For, India's courts have consistently failed the Dalits (untouchables) by steadfastly refusing to acknowledge that sexual violence is perpetrated because of a woman's caste.
The Scheduled Castes and Scheduled Tribes (Prevention of Atrocities) Act, 1989, commonly known as PoA Act, recognises rape and other forms of sexual violence as an "atrocity"- an aggravated offence, as opposed to the general crime of rape. The reason is that an atrocity, as philosopher Claudia Card defines it, is a "gross evil – the widespread toleration of wrongfully perpetrated intolerable harm to individuals".
Because Dalit women's bodies are stigmatised – they are considered expendable and justifiably available for recreational (pleasure-seeking) or punitive purposes of upper-caste men, the law seeks to bring in substantive equality by recognising the lived reality of the victims.
Therefore, it is imperative for courts to recognise that the sine qua non for the deeming rape as an atrocity under the law is that the violence was perpetrated on the ground that the victim hailed from a lower caste.
Tragically, it is here that the judicial record is one of abject failure. Not only have the judges refused to acknowledge the reality of caste, but have also attributed reasons such as "unrequited passion", "exploration of sexuality" and let off the accused. Even if there is a conviction for rape, an acquittal from the charges of atrocity renders justice not only incomplete, but also as a travesty.
Khairlanji village in western Maharashtra state stands out as the most infamous example in recent times. On September 26, 2006, four members of Suresh Bhotmange's (a Dalit) family were killed in the most gruesome manner. His wife and daughter were stripped, thrashed, and paraded naked through the village, before being subjected to a fiendish gang-rape.
Nothing was left….knives, iron rods, spikes of bullock cart wheels- everything was thrust in their private parts. Bhotmange's "crime" was the police complaint that he had lodged against the upper-caste Hindus grabbing the plot of land that was rightfully his.
The autopsy was done in the shoddiest manner – no efforts were made to test for rape, even though the naked bodies of the two women lay in the village for a considerable period of time. All the accused who were arrested were convicted by the trial court of murder and other offences, but not for rape.
Worse was in store in the Bombay High Court. In its 2010 judgement, the court put down the atrocities to reasons of personal rivalry and individual revenge. Shockingly, the court went to considerable lengths to hold that because there was no evidence, no rape had been committed – completely ignoring the harsh reality – that there would be no witnesses, and that the trial court had committed a glaring omission by ignoring evident facts. If the naked and badly mangled bodies of Dalit women did not stir the court to acknowledge sexual atrocity, perhaps nothing else could have. The appeal against the high court's judgement remains undecided till this date.
The case of Hanamath was an appeal to the Karnataka High Court against the conviction of four men for gang-raping a 15-year-old Dalit girl. The court upheld the conviction of rape because it could have done little else – all the proof – eyewitness testimony and forensic evidence were stacked against the accused. But when it came to holding the culprits guilty under the PoA Act, the court not only demonstrated its blindness to caste, but took the "boys will be boys" line of reasoning, holding that the gang-rape was "a lustful act of misguided youth".
Leave aside convictions. How does one prove to the court that a rape was committed because the perpetrators wanted to exercise their upper caste power and pelf? There cannot be any rule of evidence, except that of social reality – that the caste system, in all its vicious manifestations, exists.
Hence, the Supreme Court's judgement in Ramdas (2006) rankles, and rankles hard. In the dead of night, three men dragged out a young woman of the low-ranking Pardhi caste and raped her. This was after she had refused to obey their summons, belonging to a landowning upper-caste, who wanted her to satisfy their carnal desires.
Of course, they wouldn't have had the temerity to exercise the same obnoxious power on a woman of their own, or a higher caste, but then, Dalit women are fair game!
But the court was not inclined to accept this, and held – "The mere fact that the victim happened to be a girl belonging to a scheduled (lower) caste does not attract the provisions of the (PoA) Act."
When a judgement of the Supreme Court deals a body blow to the very foundations of the law which aims to protect, impunity will certainly continue, unabated.
Contempt notice shows Supreme Court's   Anti-dalit  bias, says Justice S C Karnan
In what might be a first, Calcutta high court's Justice S C Karnan, facing a notice from the Supreme Court in a contempt case, has lashed out at the apex court, accusing it of harbouring a caste bias against him.
In defiance of the SC's decision and sharply escalating the confrontation with the apex court, Karnan accused the CJI J S Khehar-led seven-judge bench of uppercaste bias in initiating proceedings as he belonged to the Dalit community.
Karnan virtually alleged that the court order amounts to an offence under the law to punish atrocities against Dalits and tribals and challenged the court to refer his case to Parliament.
He said: "The suo motu order against me, a Dalit judge, is unethical and goes against the SC and ST (Prevention of) Atrocities Act. It is certainly a national issue and a wise decision would be to refer the issue to the House of Parliament."
The judge argued that since the order against him was "harsh", the contempt case should be heard after CJI Khehar retired or placed before Parliament if this was not possible.
In his anxiety to respond to the SC's February 8 judicial order, Karnan addressed a four-page letter to the SC's registrar general, a post that no longer exists as it was redesignated years ago as secretary general.
Karnan, who has been at the centre of several controversies, was issued a notice and asked to present himself in the Supreme Court on February 13 to explain "scurrilous" allegations against sitting and former judges.
In response to the apex apex court's contempt proceedings, Justice Karnan said: "The suo motu petition is not maintainable against a sitting judge of the HC… I have sent representations to various government authorities regarding high irregularities and illegalities occurring at the judicial courts.
I am also a responsible judge to control such high irregularities, especially corruption and malpractice. I have furnished comprehensive proof of unethical practices happening with the respective courts.
'Upper caste judges taking law into hands'
He had earlier written to the National Commission for Scheduled Castes, levelling charges of anti-Dalit bias against the chief justice of the Madras high court in 2014 when he was a member of the bench there.
Referring to the February 8 order that also stripped him of judicial and administrative work, Karnan said: "The characteristic of this order clearly shows that the upper caste judges are taking law into their hands and misusing their judicial power by operating the same against a SC/ST judge (Dalit) with mala fide intention to get rid of him."
Referring to the "harsh order" passed earlier by a bench headed by Khehar, Karnan said: "Therefore, my deep request is to hear the suo motu contempt after retirement of the Chief Justice of India. In the meanwhile, my administrative work and judicial assignment could be restored.
My main contention is only to uproot the corruption prevailing at the Madras high court, and not to spoil the sanctity and decorum of the court."

"I (had) issued a list of the corrupted judges wherein an inquiry is mandatory, as such the suo motu petition is not maintainable. The order of the apex court in the suo motu contempt petition is erroneous and has been wilfully and wantonly and with mala fide intention was passed.

Therefore, these proceedings may be referred to Parliament, wherein I will establish the high rate of corruption prevailing with the judiciary at the Madras high court."

Indicating that he might not present himself before the seven-judge bench of the SC on February 13, he said: "The Supreme Court had not granted stipulated time (for him to respond to the contempt notice), which is highly irregular."
DALIT Judge  dismissed for   being  HONEST ?
–       An  Appeal  to Honourable Chief Justice of India
       Chief Judicial Magistrate of Sukma District in Chhattisgarh state of India Mr. Prabhakar Gwal is a Dalit , from oppressed class. Being from an oppressed class  , he best  understood the sufferings  of oppressed sections of society , sufferings  of people  , tribals displaced from forests  to make way for  big industries , MNCs. He understood the  oppression of  common public by police , state  machinery  resulting  in common man's  human rights , constitutional rights violations. He  understood  the machinations of state machinery  to favor big industrialists , also he understood the misuse of office by  public servants  all against the rule of LAW.
       Sukma CJM  Mr. Gwal  sincerely did his  constitutional duty , to uphold rule of law and earned the wrath of powers that be , Criminal Nexus , he was repeatedly interfered in his judicial  duties , repeatedly transferred and now unjustly dismissed from service without  ANY ENQUIRY  giving a chance for Mr.Gwal to make out his case. Whereas  some other  selfish  judges turned their blind eyes  to the sufferings of public ,  violations of law by public servants , intentionally failed to uphold  the law  and got smooth sailing for their  own  career.
       Hereby , We  urge  the Honourable Chief Justice of India  to  order  the Chhattisgarh  State  Government :
1.    To immediately reinstate Mr.Gwal into judicial service.
2.    To make posting at the same place , same court of Sukma , so that he can  complete the cases concerning the  powers that be to the logical end.
3.    To initiate  criminal legal prosecution  against  district collector , police officials , public servants  who directly & indirectly interfered  in the judicial duties performed by Mr. GWAL.
4.    To initiate criminal legal  prosecution against  Chhattisgarh  High Court Judges  who instead of upholding rule of law , supporting Mr. Gwal in his duties  took sides with criminal nexus , powers that be and repeatedly transferred him and now dismissed him from service without  enquiry.
5.    To reopen all the  buried cases which were dealt by Mr. Gwal and buried by transfer of  judge  Mr. Gwal. To take action against ministers , public servants  involved in those cases.
6.    To initiate  criminal action against  sukma district collector , police officials  and Chhattisgarh  High Court  Judges  on  charges of Atrocities against  DALIT  Mr. Gwal  who  was repeatedly  harassed  by  them.
7.    To initiate  criminal  prosecution under anti terror laws ,  against  present  and past  chattisgarh state government ministers , central government  ministers ,  police officials , public servants who  were and are  responsible for creation  of terror outfit SALWA JUDUM  , it's recent  terror child salwa judum – 2. These public servants   have indulged in terror acts of salwa judum , by aiding & sponsoring it , which is against law.
Date : 30.04.2016…………………………..Your's sincerely
Place : Mysuru………………………………Nagaraja.M.R.
Living in fear: Dalits still at receiving end of caste atrocities in Uttar Pradesh
For the Dalit Katheria family of the nondescript Daulatpur village in Mainpuri district of western Uttar Pradesh, the New Year turned out to be traumatic.
Hari Om Katheria, 35, his wife Meera and brother Shyam Sunder were thrashed by Chhotey Lal, an upper caste Thakur, for not greeting him with a 'Ram Ram'.
On January 15, Hari Om was working in his field when Chhotey Lal passed by. Chhotey Lal was infuriated as Hari Om did not wish him 'Ram Ram' and thrashed the Dalit farmer with his slippers.
When Hari Om's wife Meera and brother Shyam Sunder intervened, Chhotey Lal thrashed and abused them too.
Later that night, Chhotey Lal and his henchmen went to Hari Om's house and after thrashing the family again, set the poor farmer's house on fire.
The incident was reported by some sections of the media but was largely washed away amid the high-profile family feud in the Samajwadi Party.
Chhotey lal was arrested and sent to jail. However, he is now out on bail and the case is in the trial stage.
Atrocities against Dalits have continued despite Constitutional safeguards that came into force 68 years ago.
"The State shall promote with special care the educational and economic interests of the weaker section of the people and in particular, of the Scheduled Castes and the Scheduled Tribes, and shall protect them from social injustice and all forms of exploitation" says Article 46 of the Indian Constitution.
Uttar Pradesh's Hall of Shame
But Dalits remain the most oppressed section of the Indian community with poll-bound Uttar Pradesh topping the list of states with atrocities against them. According to the National Crime Records Bureau (NCRB) 2015 statistics, Uttar Pradesh recorded the highest number of 8,358 incidents of atrocities against Dalits.
The hacking of a Dalit couple in Mainpuri district on July 28 last year had brought UP into national focus all for wrong reasons. Ashok Mishra, an upper caste grocery owner, had hacked Bharat Nat, 45, and his wife Mamta, 40, after they failed to pay a debt of Rs 15. Four minor children of the deceased couple continue to be at the mercy of neighbours.
This was just few days after the infamous Una incident in Gujarat, where four Dalits were flogged in public for skinning a dead cow. However, there was no Gujarat like-uprising of Dalits in Uttar Pradesh after the murder of the couple. Mishra was arrested and sent to jail and is currently facing trial.
Despite the Centre's decision to amend the SC and ST (Prevention of Atrocities) Act in December 2015 to make the law more stringent, there has been no respite in cases of atrocities on Dalits in UP.
Prof Rajesh Mishra, former head of department, Sociology, Lucknow University, says: "Had BSP chief Mayawati retained her Dalit ideology, anti-feudal and anti-Brahmin stance instead of politically re-structuring the party to gain power, the situation would have been different in UP. Cases of atrocities on Dalits would have definitely come down."
UP has been awash with incidents where Dalits have thrashed and even killed by upper caste men for no reason.
In February last year, Virendra Kumar Mishra, a brick kiln owner and his staff in Dabauli village in Unnao district, barely 70 kms from the state capital thrashed a minor Dalit boy, tonsured his head and paraded him with a garland of slippers. Mishra wanted to coerce the boy's father to sell his land adjacent to the brick kiln to him.
Later, Virendra Kumar Mishra was arrested and sent to jail. However, he is out on bail and the case is under trial stage in the sessions court
When it comes to atrocities on Dalits, it is almost always a familiar sequence of event across different places in UP.
Dependence on upper castes
The fate of Dalits in India's most populous state remains the same irrespective of the political dispensation. Even the presence of Bahujan Samaj Party, whose supremo Mayawati advocates the cause of Dalits and has been chief minister of UP four times, has not been able to make any difference in their lives.
During Mayawati's fourth term from May 2007 till March 2012 UP topped the list of states with atrocities against Dalits. In each of those five years, over 7100 cases of violations were recorded.
Former IPS officer of UP cadre, SR Darapuri, who fights for Dalits' rights, has better explanation for unabated atrocities against them despite stringent laws and four-time BSP regime in the state.
"Crime against Dalits is not simply a law and order problem. It is a social issue which can only be tackled by empowering Dalits who are both socially and economically backward," said Darapuri.
"Dalits have no land holding and are dependent on upper castes for their livelihood. This overdependence of Dalits on the upper caste makes them vulnerable to exploitation and atrocities," he added.
The incident in Gaghura village in Sambhal district in western Uttar Pradesh on August 10 last year testifies that not only upper caste but OBCs also commit atrocities on Dalits in Uttar Pradesh.
Sudha Kumari, a 13-year old Dalit girl, had gone to the village outskirts to collect fodder. When she felt thirsty, she went to the village temple to drink water from the tube well at the temple's premises.
Puran Singh Kashyap, the temple priest, an OBC, and his assistant Natthu Singh, not only prevented the girl from drinking water but also abused her with casteist remarks. The girl narrated the incident to her father Charan Singh. When he objected, the priest and his assistant attacked the father-daughter duo with a trident. No action was taken against the priest.
BSP regime no different
"Attacks on Dalits have increased manifold under the Samajwadi Party government," BSP chief Mayawati has often issued this statement in the last three years.
But the BSP's thrust for the 2017 assembly elections is law and order centric and the party has refrained from using any Dalit-centric slogan.
"Betion ko muskurane do, behenji ko aaney do, nirdosh ko na aasu bahane do, behenji ko aaney do and gaon gaon ko shaher bananey do, behenji ko aane do," promising good law and order and development.
The Dalit dilemma largely reflects India's economic and social inequality that continues to take a toll on the less privileged..
The Dalits | Still untouchable
69 years after Independence, political rhetoric and Constitutional protection have failed to end atrocities against Dalits. Is Ambedkar's dream of social and economic equality a bridge too far?
"The State shall promote with special care the educational and economic interests of the weaker section of the people, and in particular, of the Scheduled Castes and the Scheduled Tribes, and shall protect them from social injustice and all forms of exploitation."
-Article 46 of the Indian Constitution.
Today, 68 years after Independence, as Dalits continue to bear the brunt of violence and discrimination-highlighted in recent weeks by the tragic suicide of Rohith Vemula, a Ph.D student in the Hyderabad Central University who hanged himself, blaming his birth as a "fatal accident" in a chilling final note-we could not be any further away from what the Constitution had demanded from a free and fair India.
Rohith's is not the lone tragedy. A spectre of suicide deaths by several Dalit students is haunting India. Out of 25 students who committed suicide only in north India and Hyderabad since 2007, 23 were Dalits. This included two in the prestigious All-India Institute of Medical Sciences in New Delhi, and 11 in Hyderabad city alone. Systematic data does not exist for such suicides, but the problem runs far deeper than a few students deciding to end their own lives after being defeated by the system.Dalit dilemma in India reads like an entire data sheet of tragedies. According to a 2010 report by the National Human Rights Commission (NHRC) on the Prevention of Atrocities against Scheduled Castes, a crime is committed against a Dalit every 18 minutes. Every day, on average, three Dalit women are raped, two Dalits murdered, and two Dalit houses burnt. According to the NHRC statistics put together by K.B. Saxena, a former additional chief secretary of Bihar, 37 per cent Dalits live below the poverty line, 54 per cent are undernourished, 83 per 1,000 children born in a Dalit household die before their first birthday, 12 per cent before their fifth birthday, and 45 per cent remain illiterate. The data also shows that Dalits are prevented from entering the police station in 28 per cent of Indian villages. Dalit children have been made to sit separately while eating in 39 per cent government schools. Dalits do not get mail delivered to their homes in 24 per cent of villages. And they are denied access to water sources in 48 per cent of our villages because untouchability remains a stark reality even though it was abolished in 1955.
We may be a democratic republic, but justice, equality, liberty and fraternity-the four basic tenets promised in the Preamble of our Constitution-are clearly not available to all. Dalits continue to be oppressed and discriminated against in villages, in educational institutions, in the job market, and on the political battlefront, leaving them with little respite in any sphere or at any juncture of their lives.
All this even while there has been no dearth of political rhetoric, or creation of laws, to pronounce that Dalits must not get a raw deal. The Protection of Civil Rights Act, 1955, and the SC/ST (Prevention of Atrocities) Act, 1989, prescribe punishments from crimes against Dalits that are much more stringent than corresponding offences under the IPC. Special courts have been established in major states for speedy trial of cases registered exclusively under these Acts. In 2006, former prime minister Manmohan Singh even equated the practice of "untouchability" to that of "apartheid" and racial segregation in South Africa.In December 2015, the SC and ST (Prevention of Atrocities) Amendment Bill, passed by Parliament, made several critical changes. New activities were added to the list of offences. Among them were preventing SCs/STs from using common property resources, from entering any places of public worship, and from entering an education or health institution. In case of any violation, the new law said that the courts would presume unless proved otherwise that the accused non-SC/ST person was aware of the caste or tribal identity of the victim.
So why have violent incidents against Dalits increased, rather than decreased over the years, in spite of Constitutional protection and legal safeguards? "Caste is not simply a law and order problem but a social problem. Caste violence can only be eradicated with the birth of a new social order," says Chandra Bhan Prasad, co-author of Defying the Odds: The Rise of Dalit Entrepreneurs. He argues that the upward mobility of some Dalits caused by market reforms post-1991, ironically leads to higher incidence of atrocities in the form of a backlash.
Education, the hotbed
Protest is starting to brew in institutions of higher education. At Delhi's Jawaharlal Nehru University, hundreds of students gathered at the Ganga dhaba on the eve of Vemula's 27th birthday on January 29 to organise a candlelight vigil. Slogans sliced the silence of the winter night: "Tum kitne Rohithon ko maroge? Har ghar se Rohith niklega (How many Rohiths will you murder? A Rohith will rise from every household)", and "Jaativaad pe halla bol, Brahminvaad pe halla bol, Hindutva pe halla bol, Manuvaad pe halla bol (Raise you voice against casteism, Brahminism, Hindutva, and discrimination)!" Next afternoon, the students held a protest rally at the city's RSS headquarters in Jhandewalan to celebrate Rohith's birthday. The police retaliated with batons.
Organised under the aegis of Joint Action Committee (JAC), the students were led by the Birsa Munda, Phule and Ambedkar Student's Association (BAPSA), a body formed on November 14, 2014. Birsa, Phule and Ambedkar have replaced Marx, Lenin and Mao in JNU as icons of "identity", and "caste" replaces "class" as the main issue.Who are the new student leaders? Sanghapalli Aruna Lohitakshi, a linguistics Ph.D student from Vishakhapatnam, Andhra Pradesh, is one of the founding members of BAPSA, which is akin to poet Namdeo Dhasal's Dalit Panthers of the 1970s. She speaks of "ghettoisation by upper-caste students," and "Dalit faculty seats being converted into general seats on the pretext that no suitable Dalit candidates were found". Though BAPSA and groups such as the Ambedkar Students' Association spew venom and spit fire, their struggle highlights a form of subversive protest that fights suppression with suicide. To borrow from JNU Professor Gopal Guru, it showcases the "clash between the life of the mind versus the life of the caste".
The primary reason for educational institutions emerging as pulpits of protest lies in the fractured social structure in universities, where the elite of the Dalits are competing with general students. Not only are they more aware of Constitutional provisions, they feel they are treated unfairly by university authorities and student bodies such as the ABVP by virtue of their selection in the reserved category. This is what Rohith had articulated in his suicide note, and was seemingly corroborated by the circumstances behind his suspension from the university after a skirmish with the ABVP.
Rampant segregation
In villages and urban slums, however, where segregation is rampant to this day, voices are stifled even before they can be raised. A stark example of this is a dusty little hamlet called Sunpedh-meaning empty trees-in Ballabhgarh, Haryana, barely 40 kilometres from Delhi. The tension is palpable, the stillness stifling, as the centre of the village feels like a fortress with 65 Haryana police personnel posted to prevent inter-caste clashes. No one greets anyone, no one is smiling.
Untouchability is practised widely in Sunpedh. Ask about Ram Prasad, a local grocery shop-owner, and the instant response from a young man on a motorbike is: "Chamaron ke ilake mein jayiye (Go where the Dalits live). The upper-caste areas are separated from the low-lying Dalit quarters with mud puddles all around.The entire hamlet comprises approximately 2,700 bighas of land, of which 2,000 bighas is owned by 300 families of Thakurs. The rest is owned by Dalit communities, including 150 Ravidas families, and smaller numbers of Valmikis, Garerias, and Dhimars. Most of the Dalits survive as daily-wage labourers in the farms of the Thakurs.
Here, on the night of October 21, 2015, four members of a Dalit family were set ablaze inside their house: Jitender, his wife Rekha, and their children Vaivhav, 2, and Divya, nly 10 months old. The village erupted in grief and indignation the next day when the bodies of the infants, wrapped in white shrouds, arrived for cremation. Jitender escaped while Rekha suffered serious burn injuries. Their gutted home is officially sealed, guarded by the police.
Jitender's mother Santa Devi, his 85-year old grandmother Buddhan Devi, his aunt Kanta (all three are widows) and his married sister Gita, sleep in the open in the severe winter cold since the house is officially sealed. "There seems no flame of justice, no place to live, no one to earn, no money for lawyers, no one to care for us three widows," says Buddhan. "My brother Jitender threatens to commit suicide every day. Suicide, like the Rohith Vemula case, seems like the only option for a Dalit," laments Gita. A majority of the heinous crimes against Dalits, as documented by the NHRC, are perpetrated in villages in which they are treated as second-class citizens.
But discrimination isn't a rural problem alone. Joblessness among Dalits runs through the urban landscape as well. According to 2011 Census data, the unemployment rate for SCs between 15 and 59 years of age was 18 per cent, including marginal workers seeking work, as compared to 14 per cent for the general population. Among STs, the unemployment rate was even higher at over 19 per cent.
Violent heartland
Government data suggests that the usual suspect in terms of incidence of crime committed against SCs is the Hindi heartland. Uttar Pradesh and Rajasthan top the list with 8,075 and 8,028 cases respectively in 2014. Bihar is the third-worst with 7,893 incidents. Neither the political regime, nor the ideology of the ruling political party, nor the presence of major Dalit parties within the states makes a difference. Rajasthan and MP are ruled by BJP governments, Uttar Pradesh by the SP and Bihar by the JD (U). All the parties are equally guilty of sins of omission and commission.
"The absence of social reform movements in the heartland states in contrast to the southern states has contributed to the presence of brutal caste wars in the north," says P.S. Krishnan, a former welfare secretary. In the south, the undivided Andhra Pradesh is the worst performer with 4,114 atrocities recorded in 2014.
Part of the reason for this is the backlash by privileged groups against a new form of assertion of rights and display of aspirations by Dalit youth. The emergence of Dalit parties such as Mayawati's BSP, and the rise of Maoists in Bihar and Andhra Pradesh, explains the rise of violent incidents in these states. An assertion of Dalit rights, whether in terms of identity politics (in Uttar Pradesh), or class politics (Bihar and Andhra Pradesh), leads to a backlash. All through the 1990s, Bihar was wracked by caste wars-most notably Ranvir Sena versus Lal Sena-in parts of Jehanabad, Aurangabad, Gaya and Bhojpur.
Dalit politics typically takes two forms: militant movements and electoral coalitions. The democratic electoral route is ironically poised on the cusp of a cruel paradox in which Dalit groups must either ally with mainstream political parties and risk compromising with the Dalit agenda; or fight it out alone and risk getting pushed to the margins. It is a Hobson's Choice.
The reason is that the spread of Dalit population throughout India is such that by themselves they are always in a minority. In any electoral battle, they can only benefit if they form an alliance either with other dominant caste groups, or mainstream political parties.
In Uttar Pradesh, for example, Mayawati allied initially with mainstream parties-Congress, BJP and the Samajwadi Party-but ended up quitting the alliance each time in a huff. Later, she changed her strategy by forming alliances "directly with upper-caste groups and minorities", says BSP's Sudhindra Bhadoria. "The Brahmins and Thakurs form an alliance with BSP not because they have an ideological affinity but because they want to defeat the Yadav-led SP," adds another BSP leader. In spite of such alliances, however, the BSP faced defeats in the 2012 Assembly polls and 2014 Lok Sabha elections in UP because its math was trumped by the Yadav-Muslim combine and the consolidation of the Hindu vote.
The way out
The obvious ways to ensure that the lot of the Dalits is improved are education, rise in economic status, market reforms transforming the lives of millions of Dalits living in impecunious conditions. But not many experts are convinced of this path to empowerment. "Market reforms can touch the life of a few thousands of Dalits but it simply creates an island of prosperity amongst a sea of penury," says Guru, arguing that social movements are the only solution.
Krishnan, on the other hand, believes that constitutional safeguards and protective legal clauses can play a great enabling role. But, more than any of this, a change of attitude is needed among the ruling classes to stem the tide. Perhaps the best solution was provided by B.R. Ambedkar in the Constituent Assembly. "We are entering an era of political equality. But economically and socially we remain a deeply unequal society. Unless we resolve this contradiction, inequality will destroy our democracy," he had warned.
But nothing learnt; little progress made. The Dalit dilemma, ironically, is the dilemma of India. Some hard questions remain: How long must the discrimination continue? How many dreams must be shattered? How many flames of justice must be extinguished? How many Vaibhavs and Divyas must be burnt alive? How many Rohiths must die to change India, once and for all?
Dismissal of a Judge in Bastar: Where protecting of Adivasi Rights is Not in the 'Pubic Interest'


The Queer Case of How a Judicial Officer, who happened to be a Dalit, who is sensitive to Human Rights of Adivasis has been dismissed after the Sukma Police ran interference in judicial functioning making a mockery of the separation of powers between the executive and the judiciary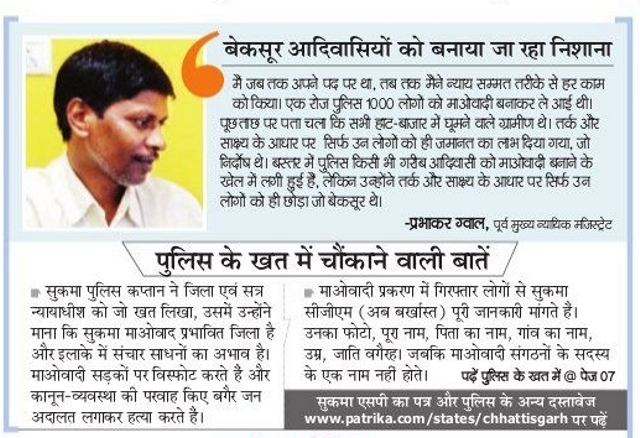 On the April 4, 2016 Judge Prabhakar Gwal received an automated message on his phone. It said he had been dismissed from his post as Chief Judicial Magistrate, Sukma, Chattisgarh in "public interest". The official letter, that he later received, stated that the State Government on the recommendation of the full bench of the High Court of Chhattisgarh had dismissed him under Article 311 (2) of the Indian Constitution". The order stated no reasons or charges for his dismissal apart from that his removal was in public interest. Prior to his dismissal, JudgeGwal had faced a series of irregular transfers; show cause notices, though what lead to this dismissal is still unclear.
In the last few months, the state of Chhattisgarh has been in the news several times. Issues that have been covered range from mass violence and atrocities against the Adivasi population to the harassment of lawyers, journalists and activists questioning the State's actions in the Bastar region. Mr Gwal's dismissal comes in the wake of these incidents.
The last major case that Gwal was working on was that of the illegal detention of Deva Sodi. Deva Sodi, an Adivasi resident of Sukma district, was illegally detained in Dornapalthana. When the case came up before him, Gwal issued notice to the thanaprabhari (police station representative) who replied saying that Deva was no more in his custody but had been returnedto one of his friends few days back. Noticing irregularities in the police version and procedures, he passed an order stating that the police version was false. During the inquiry, after more than 15 days, Deva was shown as arrested in a thana along with his brother (who was the complainant in the illegal detention case) in multiple cases. During the hearings of the illegal detention petition, Gwal issued letters/notices to the Inspector Generalof Bastar, Mr. SRP Kalluri and the Superintendent of Police, Mr. D Sharavan in Sukma to ask why Deva Sodi had not been produced from Dronapalthana.
Today, Gwal feels that his conduct of fair and speedy trials in Sukma and the issuing of orders against the police led to unhappiness in the police and state department and would have contributed to his abrupt and illegal dismissal.
A few days after he received his dismissal notice, Gwal also received the response to a Right to Information application that he had filed earlier in the month. The RTI response revealed that in February, the Superintendent of Police of Sukma had written to the High Court and the District Judge, Dantewadatwice complaining about Gwal. The first letter, dated February 8, 2016 complained to the District Judiciary against Gwal stating that among other things he has been granting bail to "naxal accused" and such decisions have "adversely affected the morale of the security forces" and "weakens the judicial process". It first claims that Gwal had mentally harassed police officers. The letter begins by stating that Bastar is a difficult area and in such adverse circumstances the forces go around and puts their lives in danger arresting "naxalites". But when the police present the arrested people in Gwal's court he on the very first remand asks them to present chargesheets as soon as possible. The letter states that Gwal questions the actions of the police and genuineness of the arrest. The police feel that Gwal threatens them with action against them in cases where the judge thinks police has made a false arrest.
In the second letter , amongst other things, the police officer accuses Gwal of granting bail to the people they arrest as naxalites. The officer states again that the police put their lives in danger when they go into the jungles and capture and arrest people but Gwal grants them bail, which has demoralized the forces. The officer in the end asks for appropriate action to be taken against the judge.
In any other state the fact that a judge has granted bail to prisoners would not be matter in which the police forces could file complaints. In some instances, it could even lead to contempt of the court. If the prosecution/the police disagrees with a certain judgment or order, then the right recourse is to file an appeal in a higher court. These letters are shocking in that they clearly reveal that the attitude of the police in Bastar remains polarizing – that everyone must agree with the police and their version. For those who don't agree, or dare to speak out, they have to face the consequences, even if it is a Judge.
This was not the first time when Gwal was at the odds with the police or the state. Gwal has previously been in the news for his judgment in a PMT (Pre Medical Test) paper leak scandal in Raipur. In August 2015 he passed a judgment that convicted 6 persons for the leak. He also passed orders for the registration of an FIR and subsequent investigation into the role of the then SP and Present IG of Raipur, Deepanshu Kabra and another police officer for their role in attempting to suppress evidence in the case. After this, an attempt was made to intimidate him by a local BJP MLA who had been a subordinate of the SP.
Gwal had filed a complaint of intimidation againstthe BJP MLA and DeepanshuKabra in his personal capacity at the local police station. After this all hell broke loose and instead of action against the BJP MLA and Kabra, the High Court issued a show cause notice to Gwalwhich claimed that he has violated rules under C.G. Civil Service Conduct Rule, 1965, under which they claimed that he was required to seek permission of the High Court before filing such an FIR against the BJP MLA and the police officer. An adverse order was passed against him without any inquiry and his one-year annual increment was cancelled as penalty.
Gwal had filed a complaint of intimidation against the BJP MLA and Deepanshu Kabra in his personal capacity at the local police station. After this all hell broke loose and instead of action against the BJP MLA and Kabra, the High Court issued a show cause notice to Gwal which claimed that he has violated rules under C.G. Civil Service Conduct Rule, 1965
In what appeared to be a punishment posting, Gwal was then transferred to Sukma district as CJM, in the Bastar division. In September 2015 he took up his posting where he faced unfair treatment from the start from the police and the local administration who failed to provide him the usual protections given to judges in conflict areas. In his tenure as a judge in Sukma, he realized early on how the police were carrying out large scale arrests and surrenders of what seemed to be innocent Adivasis. Not only did he conduct fair and speedy trials, he also brought to the notice of the higher judiciary the conduct of the police in the Bastar region.
In keeping with his fearless attitude and his adherence to the facts and the law,  Gwal also passed orders indicting a school in Sukma district for taking inordinately high fees. After he took cognizance in this case he received a call (of which he has an audio recording) from the District Collector who said that he should consult him before passing such judgments.After receiving this call, Gwal wrote to the District Judge and Chief Justice of Chhattisgarh, notifying them about the phone call from Collector where he explained that there was an attempt to interfere in judicial process and to influence the court. No action was taken upon his complaint. Instead he received multiple show cause notices as a response to his complaints against some of the sitting judges in the lower judiciary.
In a conflict zone like the Bastar division, where systems and guarantees of due process, and law and order, appear to have broken down, it takes a great deal of courage to be able to challenge vested interests and the powerful and to remain independent in a polarized atmosphere. The casual removal of a district judge, in contravention of procedure appears to reveal the interference of the government and the police in the judiciary.
Today Prabhakar Gwal is back in Chhattisgarh where he fears for his life and for that of his family. He adds though, that he will continue his fight and will use the appropriate legal channels and methods to challenge his dismissal. A Dalit man from a rural background, he practiced for ten years as an advocate in Chhattisgarh before becoming a judge. "If nothing else works out," he says,  "I will just go back to my village and farm."
edited , printed , published & owned by NAGARAJA.M.R. @ : LIG-2 / 761 , HUDCO FIRST STAGE , OPP WATER WORKS OFFICE , LAKSHMIKANTANAGAR ,HEBBAL ,MYSORE -570017 INDIA     
  cell : 91 8970318202        
 home page:   
http://eclarionofdalit.dalitonline.in/  ,
http://sites.google.com/site/eclarionofdalit/Home ,
http://groups.google.co.in/group/e-clarion-of-dalit  ,
http://e-clarionofdalit.blogspot.com/ ,
http://in.groups.yahoo.com/group/e-clarionofdalit/ ,    
http://paper.li/f-1367938674      ,      
Follow me at
http://www.facebook.com/people/Nagaraj-Mysore-Raghupathi/513253184 ,
http://www.amnesty.org/en/user/naghrw ,
http://twitter.com/naghrw  ,
Contact  :  naghrw@yahoo.com  , nagarajhrw@hotmail.com ,
http://www.amnesty.org/en/user/naghrw  
A   Member  of  Amnesty  International